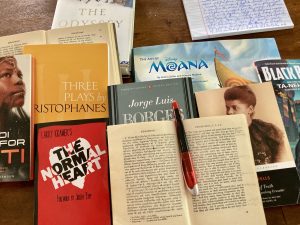 Listen to the full introduction to this course here (or read this text):
This course is a journey in leadership development through the study of poetry, prose, drama, and film from ancient and modern sources: the Odyssey, Nnedi Okorafor's Binti, Aristophanes' Lysistrata, Sophocles' Philoctetes, Jorge Luis Borges' "El Muerto" ("The Dead Man"), Larry Kramer's The Normal Heart, Xenophon's Education of Cyrus, Ida B. Wells' "The Requisites of True Leadership," Disney's Moana, and Ryan Coogler's The Black Panther. By gaining practice in translating your study of these works into your own leadership development you will become trained and empowered to begin looking at all of the human cultural artifacts you encounter–literature, art, history, philosophy, architecture, etc.–as potential points of reflection for your further leadership development.
We will be working with a definition of leadership in this course that focuses on how to address the material and character needs of others. This approach is based on a description of "the most admirable thing" a person can do in a work by an ancient Athenian author, Xenophon, called The Education of Cyrus or Cyropaedia. I have modified the text to make it gender inclusive; the original text focuses only on "man".
[I]t [is] adequate and respectable for someone if they [are] able to see to it that they become both certifiably respectable and good and that they and their household be self-sufficient. But, though this is a great deed, to know how to take thought for other humans in such a way that they have all that they need in abundance and that they will all be the kind of people they need to be, this of course appear[s] to be most admirable. [Xenophon Cyropaedia 1.6.7, modified to be in the present tense].
"to know how to take thought for other humans in such a way that they have all that they need in abundance and that they will all be the kind of people they need to be"
How do we do this? That is our main question for this course…
Participants in this course can expect to pursue their leadership development in five different ways:
knowledge, or appreciation, of leadership: What is leadership? What are the most common challenges of leadership? What are the emotional and psychological pressures of leading? How does someone cultivate leadership? How accurately can you predict what would happen if you engaged in a certain leadership activity?
behavior: what are the most common leadership behaviors? how do I come to practice them more often and better? Here is a list of common leadership behaviors you may wish to begin reflecting on.
relationships: who are the best people to work with to get things done and how do I cultivate relationships with them?
decisions: what are the decisions I can make in my life to prepare me to show the most leadership? What subjects should I study? What courses should I take? What degree should I pursue? What career?
reputation: how can I make my leadership capacity known to others, such that I enter into the best partnerships for improving the world?
If you would like some initial practice in this process of development through study, here's a short exercise.
To make your way through this course you need only a notebook to begin writing down your thoughts, as one of our core techniques for leadership development will be a practice of "sketching" the kinds of leadership we are observing in our lives and the kinds of leadership we ourselves want to perform (for more on sketching, check out this link). I encourage you to write by hand on paper in locations that are as free from distraction as possible, to ensure that you look as deeply inward and outward as you can. You also need to acquire a copy of Nnedi Okorafor's Binti and Larry Kramer's The Normal Heart, both of which may be purchased for a few dollars. All of the other materials are contained on this website.
Good luck and let us begin!
If you are interested, here is a bit more about yours truly.